Craigwerks.com is a window through which I can share my vision with the world. It is my hope to engage people who value creativity, social justice, and freedom. My work is distinguished by the range of issues it addresses and the various skills I use to inform and mobilize people. I help those who are not necessarily activists to understand our common humanity and engage in social justice activism. The purpose of my work is to underline the connectivity of oppression and our inescapable connections as human beings.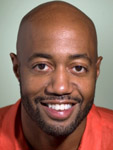 I present workshops and lectures, facilitate discussions, write essays, editorials and poetry, and I deliver speeches and motivational talks. All of these efforts help illustrate the connections between sociopolitical movements and our fundamental need of love as individuals and as community. My work focuses on achieving greater liberation by addressing the needs and concerns of black people who are lesbian, gay, same gender loving, bisexual, transgendered, and all others who are marginalized simply because of who they are. I am an experienced facilitator/trainer who educates people about conflict resolution, diversity appreciation, and dismantling oppression. My goal is to motivate people to help create a society that is more just and more loving.
I want people to see my work as a powerful agent for social change and intellectual freedom. I want to inspire people to do their best, to be their best selves. My work is provocative, inspiring, illuminating, and accessible to many. I value honesty, as costly and painful as it can be. Without it, you cannot have integrity and if you do not have integrity you have nothing, for yourself or for anyone else.
Craigwerks stimulates deeper thinking and deeper feeling. Craigwerks was created with the understanding that we live not only in our heads, but in our bodies, and our hearts and souls as well.